Irtysh ***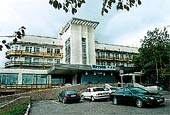 from $20 + VAT

The three-star Irtysh Hotel (4 floors, 76 rooms), built in 1988 and reconstructed in 1998, is located on the bank of the Irtysh river in the central part of Omsk. It is surrounded by picturesque forest called Starozagorodnaya Roscha.
Airport - 25 minutes. Railway station - 25 minutes.

The hotel has restaurants, big concert hall, conference halls, banquet hall, cafeterias, sauna, busness - centre, barber's shop, pharmacy and taxies.
Address:
155/1 Krasny Put ulitsa
Women of Sevastopol

7320 N Dreamy Draw Drive
Phoenix, Arizona 85020
(602) 553-8178
FAX (602) 468-1119

Contact Us



THIS PROGRAM IS THE SOLE PROPERTY OF WOMEN OF SEVASTOPOL AND MAY NOT BE COPIED IN ANY WAY OR FORM WITHOUT EXPRESS PERMISSION FROM WOMEN OF SEVASTOPOL.

© COPYRIGHT 1996-2019 - ALL RIGHTS RESERVED.