Sevastopol Info
Sevastopol History
Sevastopol Geography &
Climate
Sevastopol Economics
Culture in Sevastopol

WOMEN's PROFILES
Women of Sevastopol
Search by ID
Order Addresses Now
Platinum Members Only
Women Registration
бунд дкъ дебсьей

SERVICES
Express Mail
Phone Translation
Gift Service
Fiancee Visas
Travel Services
Auto Updates

INFO ABOUT KHERSON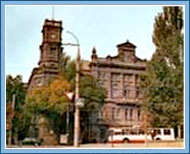 Kherson is located in southern Ukraine on the right bank of the Dnepr river. The city was founded in 1778 by Grigory Potemkin. It was the cradle of the Black Sea merchant navy. Kherson is a large sea and river port today. There are two museums in the city - the Museum of Local Lore and the Arts Museum. Kherson also has a Philharmonic Hall, a Puppet Theatre, Music and Drama Theatre, as well as numerous architectural monuments. The exhibits of the Arts Museum include paintings from the 18th through the 20th centuries.




Women of Sevastopol

7320 N Dreamy Draw Drive
Phoenix, Arizona 85020
(602) 553-8178
FAX (602) 468-1119

Contact Us



THIS PROGRAM IS THE SOLE PROPERTY OF WOMEN OF SEVASTOPOL AND MAY NOT BE COPIED IN ANY WAY OR FORM WITHOUT EXPRESS PERMISSION FROM WOMEN OF SEVASTOPOL.

© COPYRIGHT 1996-2018 - ALL RIGHTS RESERVED.

TOUR INFORMATION

Romance Tours
Tour Dates and Prices
Reservation Form
Photos From Recent Tours
Introduction To Your Tour
Experience
Three Socials
Items To Consider...
Testimonials From Past Tour
Members
Getting There And When You
Arrive
Tour Insurance
F.A.Q.