Sevastopol Info
Sevastopol History
Sevastopol Geography &
Climate
Sevastopol Economics
Culture in Sevastopol

WOMEN's PROFILES
Women of Sevastopol
Search by ID
Order Addresses Now
Platinum Members Only
Women Registration
бунд дкъ дебсьей

SERVICES
Express Mail
Phone Translation
Gift Service
Fiancee Visas
Travel Services
Auto Updates

Rooms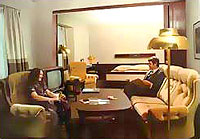 The Hotel has 840 rooms and 1,600 beds. All the rooms qualify for the international "lux" hotel standart. This means that rooms have:

• high-class furnishing;
• four-chanel radio;
• TV with remote control, local and satellite;
• refrigerator;
• an individual fire-safety system;
• Guard alarm system;
• Electronic door locks;
• Door peephole;
• highly efficient air-conditioning;
• Triple windows (80% noise protection);
• Hairdryer;
• Full bath amenities;
• furnishing fabrics of exceptionally fire-proof materials;
• telephone with intercity and international access.

Guests may enjoy a cup of coffee or refreshments and buy small items at the buffets on individual floors.
[ Pulkovskaya Home ] [ Location ] [ About ] [ Rooms ] [ Restaurants ]
Women of Sevastopol

7320 N Dreamy Draw Drive
Phoenix, Arizona 85020
(602) 553-8178
FAX (602) 468-1119

Contact Us



THIS PROGRAM IS THE SOLE PROPERTY OF WOMEN OF SEVASTOPOL AND MAY NOT BE COPIED IN ANY WAY OR FORM WITHOUT EXPRESS PERMISSION FROM WOMEN OF SEVASTOPOL.

© COPYRIGHT 1996-2018 - ALL RIGHTS RESERVED.

TOUR INFORMATION

Romance Tours
Tour Dates and Prices
Reservation Form
Photos From Recent Tours
Introduction To Your Tour
Experience
Three Socials
Items To Consider...
Testimonials From Past Tour
Members
Getting There And When You
Arrive
Tour Insurance
F.A.Q.